Soliste / Soloist Yosef
Compositeur / Composer Francois Couture
Quatuor BORÉAL
1et violon / 1st violin Jean-François Gagné

2nd violon / 2nd Violin Mélanie Charlebois
Alto / viola Marie-Claude Perron

Violoncelle / cello Nathalie Giguère
Lensemble vocal CANTUS NOVUS
Ténor Richard Duguay

Ténor Philippe Gagné
Ténor Dominique Gagné
Basse Robert Huard
Une expérience spirituelle charismatique
Présentation

Il faut bien donner une clé pour ouvrir le coffret de cette expérience spirituelle. Elle naît de la prière et de la méditation des Mystères du chapelet dans la tradition chrétienne : joyeux, douloureux, glorieux et lumineux. Le soliste Yosef seul - qui tient à conserver l'anonymat - vit un moment de prières dont l'expression est celle du chant en langues. Cest à partir de ce premier enregistrement, matrice des chants, de sonorités, et tout autant d'émotions, que le compositeur François Couture a écrit un Oratorio avec un choeur de voix d'hommes et un quatuor à cordes.

Ces chants en langues ont leurs racines dans l'intelligence des Écritures. Ils demeurent le fruit des méditations de la Parole de Dieu dans la Bible. Ce ne sont pas des lancées de mélodies improvisées, mais l'offrande intérieure livrée à la méditation de la Parole de Dieu dans Les Écritures, au choeur de chacun des Mystères.
Une grande intensité spirituelle traverse le long chemin de ces méditations qui portent chacune la marque d'un épisode évangélique. À cela s'ajoute pour chacun des Mystères un vers poétique. L'Oratorio se termine sur un Épilogue appelé Paulus en l'honneur de lApôtre des Nations.
Ce dernier écrivait d'ailleurs aux Corinthiens :

Car, si je prie en langues, mon esprit est en prière, mais mon intelligence n'en retire aucun fruit. Que faire donc? Je prierai avec l'esprit, mais je prierai aussi avec l'intelligence. Je dirai un hymne avec l'esprit, mais je le dirai aussi avec l'intelligence
1 Cor 14, 14-15
L'âme du monde est fragile, tendue, violente et, osons-le dire, souffrante. La voix humaine peut guérir le choeur humain. La voix, avec ses gammes étendues de sentiments variés. Dénouer les peurs, le désarroi, l'insécurité par la voix qui exprime les chemins intérieurs. Chacun des Mystères possède une charge émotive profonde, humaine et spirituelle. La voix, les voix, la musique et les sonorités demeurent le chemin que reprennent les choeurs appelés à être ces vases communicants dans lesquels Dieu verse sa Lumière.

Cet Oratorio appelle le dénouement de tous les noeuds par l'Écoute des Mystères qui sont comme des mutations, des passages, des exodes, des exils, des sorties vers un horizon plus clair.

Les Mystères sont comme des lampes allumées et les langues comme l'encens qui brûle.

------------------------------------------------------------------------------------------------------------------------------------
A charismatic spiritual experience
Presentation
Here is a key to the cover of this spiritual experience. It grew out of prayers and meditations on the Mysteries of the Catholic rosary: the Joyful, the Sorrowful, the Glorious and the Luminous. Soloist, Yosef, who would like to remain anonymous, experienced singing in tongues during a solitary moment of prayer. Based on this first recording, the master for the rest of the songs, sounds and emotions, composer François Couture wrote an Oratorio for a choir of male voices and a string quartet.
The origin of these songs in tongues is found in the Scriptures. They are the fruit of meditations on the Word of God. They are not improvised melodies, but an inner offering to meditations on the Scriptures behind each Mystery.
Great spiritual intensity infuses the winding path of these meditations, each of which is based on a Gospel story. Each Mystery also features a poetic verse. The Oratorio closes with an epilogue entitled Paulus, in honor of the Apostle of Nations.
In Corinthians, he wrote:
For if I pray in tongues, my spirit prays, but my understanding is unfruitful.
15 What is it then? I will pray with the spirit, and I will pray with understanding also: I will sing with the spirit, and I will sing with understanding also.
1 Cor 14: 14-15
The worlds soul is fragile, tense, violent, and, dare we say it, unwell. The human voice can heal the human heart. The voice, with its capacity to convey an infinite range of feelings through interior pathways, can soothe fears, confusion and insecurity. Each Mystery carries a deep emotional charge, both human and spiritual. The voice --voices, music, and sounds-- is still the pathway hearts take when called to be communicating vessels into which God can pour His light.
This Oratorio calls for the end of all suffering through Listening to the Mysteries, which are like mutations, passages, exoduses, exiles, doorways to a brighter horizon.
The Mysteries are like illuminated lamps and the tongues are like burning incense.
Discovery of the Month
François COUTURE (b.?) Mysteria Rosarii Oratorio


Yosef (soloist)
Ensemble Vocal Cantus Novus
Quatuor Boréal rec? © 2013.
DISQUES BOGHEI RECORDS [57:31] from boghei.com (mp3)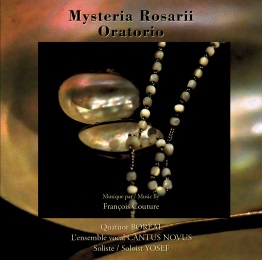 This recording, billed as a charismatic spiritual experience, arose from the ability of the anonymous soloist, Yosef, to speak in tongues. Contemporary French Canadian composer François Couture used this as the basis of a series of meditations on the mysteries of the rosary: Five Joyful Mysteries, Five Sorrowful Mysteries, Five Glorious Mysteries and Five Luminous Mysteries, to which he has added a final work in honour St Paul.

The concept of setting the rosary to music goes back to the Rosenkranz or Mystery Sonatas of the baroque composer Heinrich Biber see my review of one of the many available recordings and Coutures music, though contemporary, clearly stands in a recognisable relationship with the music of that period. Other influences are apparent, too the pseudonym given to the soloist suggests a middle-eastern, Jewish or Arab identity and I certainly hear strands of the music of that area.

I received a choice of download for review, mp3 or lossless flac, and chose the latter. The link which Ive given to Disques Boghei indicates only mp3 availability at the moment; perhaps flac will appear later. Theres a series of five jpeg images which add up to the booklet, with an indication of the theme of each of the meditations. No words, of course, since speaking in tongues doesnt relate to any language, though the utterances sound vaguely Semitic. In a sense, the interpretation is as wordless as Bibers setting for violin and continuo.

Having read the blurb, I started from a sceptical position as an Anglo-Catholic agnostic Im not into speaking in tongues and other charismatic manifestations but soon found myself caught up in the experience. Youll find other interesting compositions on the Boghei website.